Love the knife life? No? Well, here's a starter's guide to everything you need to get chopping. We'll talk about basic designs, uses, technique, and maintenance that will save you from a bad meal or a trip to the emergency room. Speaking of which, let's start with how to keep all those phalanges intact.
Don't Get the Point?
Your whole life you've enjoyed everything from hitchhiking to Rubix cubes thanks to your talented, flexible fingers and thumbs. So, do them a favor and point your finger tips AWAY from the blade. You can use the flat of your second digit as a plane that guides the knife by resting the broad, non-sharp part of a chef's knife to direct your downward motion.
Sharpen Your Skills
One of the most common tips of awesome knife skill proponents is using the sharpest blade possible. Even though sharper knives cut off fingers more easily, they also cut through food with less effort, making your life easier and making an accident less likely. More on sharpening later.
Three's Company
Another common tips from some very famous chefs (i.e. Gordon Ramsay and Jamie Oliver) is that the most a decent home chef needs is three basic knives: a chef's or chopping knife, a paring knife, and serrated bread knife.
But you can also throw in a katana if you run a Samurai Delicatessen.
Making the Cut
The chef's knife is going to be your go-to tool, perfect for chopping and dicing most things that you'll use in your recipes. Like we said above, there are a number of techniques you can use to prevent injury and eventually get to the point where you're doing that cool, superspeed chop like on the cooking shows.
Paring knives basically come into play when you're working on very tiny things where a large and heavy kitchen knife is no longer practical. Examples include peeling fruits like mangos, de-veining shrimps, or removing the seeds from jalapenos.
The bread knife is obviously used to cut bread, but it'll also come into play when you need to cut tomatoes, giving you the toothy blades to make easy work of their thick skins without pushing out their tender guts. Also, here's a Bread-y Vet-er to show you how to slice that loaf.
Heavy Metal
Having a heavy knife handle will give you more control over your chop, as well as giving you a little extra inertia where it counts. But if you get a knife that won't balance in your hand, it can eventually lead to wrist fatigue, and then how are you going to jerk off to pictures of the meal you just cooked?
Can You Handle It?
After considering the heaviness and balance of the knife, the next thing you'll want to consider is the way it feels in your hands. There are tons of varieties of different grips, ranging from circular, oblong, to "D-shaped", as well as one's that imitate katanas. Then, there are plastic, metal, and wooden handles, in addition to a number of tactile patterns that will make the blade less likely to slip in your hand. The only right answer is the one that best fits your hands.
Come Correct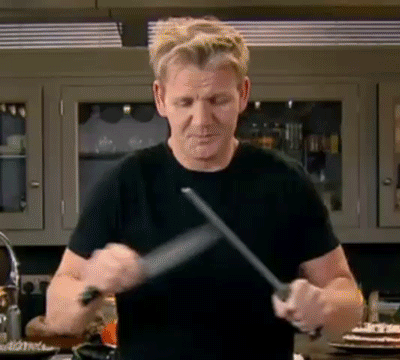 How often do chef's sharpen their knives? Well, if they're high quality knives, not as often as you'd think. "But I see them do it every time they go to cook on Hell's Kitchen???" What their actually doing, dumbo, is honing the blade. Essential, the blade bends when it hits harder surfaces from time to time—chicken bones, avocado pits, etc. The honing rod is just correcting the edge of the blade so that it will continue to cut effortlessly and avoid accidents. If you actually sharpened a knife every time you picked it up, you'd wear down the material of the knife way faster than necessary.
Be Sharp
So, how often should you sharpen your knives? The honing described above is actually the most important aspect, and should allow you to forego sharpening for years. With a regularly honed blade, the most you will need to sharpen it is once every year or two, and that's with heavy daily use. It's also worth noting that many people suggest taking your knife to a professional cutlery for sharpening instead of trying to do it yourself or getting one of those ridiculous home sharpeners.
Bonus Tip
Once you're at the dinner table, only use the serrated side of a table knife to cut bread. Spread buttery goodness with the flat side of the knife because the only bread that should have holes in it is sourdough.